So yesterday my roommate and her boyfriend celebrated their 1 year anniversary. While I love them and am so happy for them and it reminds me of how amazing it is to be so happy and in love, it also reminds me just how miserable and lonely I am right now. How I still love someone who doesn't want me, and who more than likely hates me and everything about me.
As I flipped to the October page of my calendar yesterday, I was faced with a photo from last October of Darren and I carving pumpkins, and immediately thought about that weekend. I stared at the picture for a while, thinking about just how happy I was then, and how nice of a weekend we'd had together, and how excited we were to only have a year of long distance dating left. It's amazing how different things can be in a years time. Then I did this, because I may actually end up going crazy if I have to look at that picture for the next 30 days.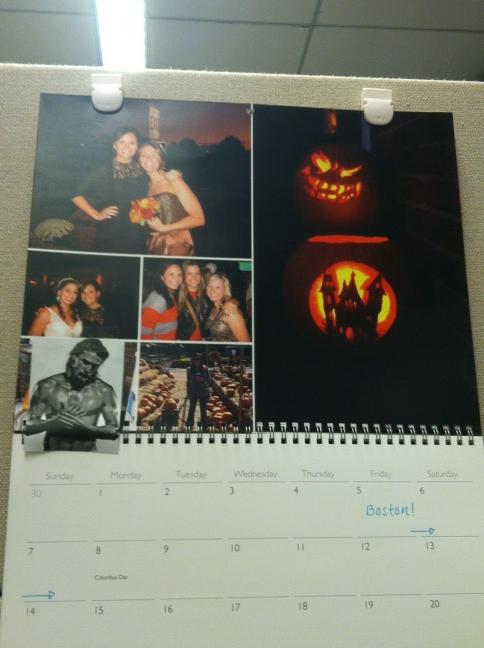 Sometimes when I'm driving home at the end of the day, I have these wild fantasies that when I get there he'll be sitting on the porch waiting for me, like I live in a fucking romantic comedy or something. Yesterday was one of those days, and as I was imagining such a ridiculous scenario, this song came on my iPod and I completely fucking lost it. Basically…
And now I miss everything about you
(Still, you're gone)
I can't believe it, I still want you
(And I'm lovin' you, I never should've walked away)
After all the things we've been through
(I know it's never gonna come again)
I miss everything about you, without you
It's even hard for me to watch my favorite show, Sons of Anarchy, right now. He got me into it, we would watch it "together" every week and call during every commercial break and text when something crazy happened. Last week when the craziest of all crazy things happened, I found myself picking up the phone to text him out of habit, and realizing I had no one to send that text to anymore.
It's sad, and I'm sad… all of the time. It's been almost three months and I can't snap out of this or get over it. I feel like I'm not in any better of a place than I was in July, and I can feel my friends getting sick of me talking about this over and over. I cried myself to sleep last night, and then woke up 4 hours later unable to sleep any longer. I'm so tired of all of this, and just plain tired in general. When does it get better? I try to think back to my last hard break-up and feel like I was so much better by the 3 month mark. Maybe this is just a bad week…
Filed under: break up, Daily | Tagged: break up, depression, relationships, sadness |